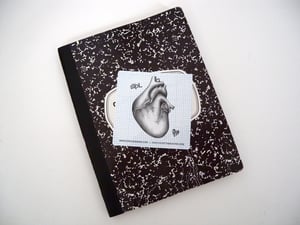 $

2.00
We all remember collecting stickers as kids—sticking them everywhere from notebooks to skateboards to street posts. (Okay, maybe we still do it now too.)
This is not a t-shirt, but Jeff Staple has exclusively designed a collaboration sticker for hearty magazine. The This is Not A T-Shirt hearty magazine x Staple Design Sticker, touches on high school notebook sticker nostalgia, featuring a blue notebook background, doodle drawing of a heart and hearty magazine and Staple Design insignia.
$2.00 for a set of 4.
The $2.00 pays for packaging (an envelope), shipping (a stamp), and packing costs (coffee to keep us awake). You can always pick one up at Reed Space in New York for free while supplies last.
Please email us for shipping outside North America info@heartymagazine.com.